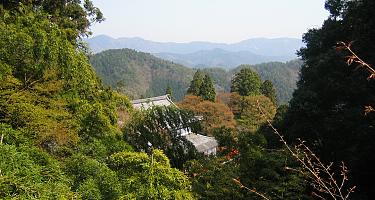 Kurama is a rural town in the northern mountains of Kyoto City, less than one hour from the city center. Kurama is best known for its temple Kurama-dera and its hot spring, one of the most easily accessible hot springs from Kyoto.
Outdoor and indoor baths can be enjoyed at Kurama Onsen, a ryokan located at the upper end of the town of Kurama. It can be reached in a 10 minute walk from the train station along the town's only road or along a nature trail following the river.
Guests, who are staying at the ryokan, can use the baths for free, while daytrippers pay 2500 Yen per person to use all of them or 1100 Yen per person to use the outdoor pool (rotemburo) only.
| | |
| --- | --- |
| Kurama Town | Kurama Onsen |
Kurama's main attraction, Kurama-dera, is a Buddhist temple located in the wooded slopes above the town. From its main gate in the town's center, the main buildings can be reached in a 30-45 minute climb up the mountain. A cablecar (200 Yen one way) leads halfway up.
Along the ascent to Kurama-dera stands Yuki Jinja, a shrine famous for its Fire Festival (Kurama Hi Matsuri), held annually on October 22. Kurama-dera's main buildings stand on a terrace on the mountain's slope, overlooking the wooded valley.
Along the hiking trail from Kurama to Kibune
Behind the temple's main building, the hiking trail continues through the forest past several other temple structures to Kibune, a small town in the neighboring valley. The hike from Kurama-dera to Kibune is steep at times and takes about one hour.
Kibune offers several ryokan and restaurants, which serve meals on terraces built along the river during the warmer months of the year. At Kibune Shrine you can obtain a unique type of omikuji (fortune telling paper slips) that displays your fortune after it has been dipped into the water.